There are only a few places left on the puppy list! Depending on the number of puppies it can also happen that surprisingly there is still a puppy available. Also a registration for the next litter with Badesi in winter 2023 is already possible.
Registration for the joint walk is now possible, contact me via mail: pwd-zucht@sport-hunde.at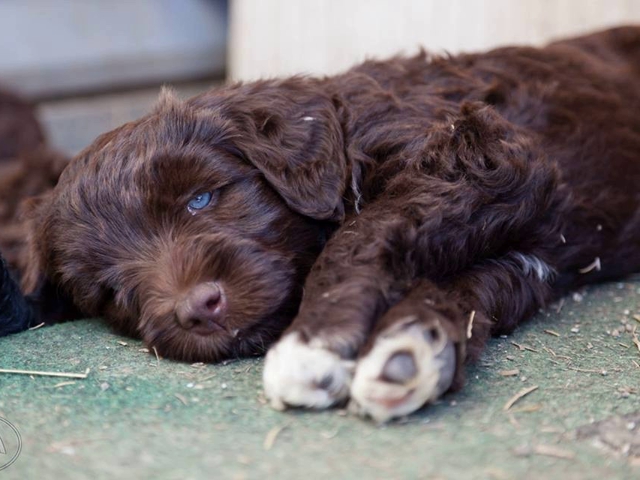 I am often asked: When can we choose our puppy ???
Then my answer is as follows: There is a final decision only in week 7, before that a preselection can be made approximately at the character traits, which however does not always remain exactly so. A breeder friend supports me in the preselection of the breeding evaluation, these are completely independent of my own preferences.
I believe that the main focus when choosing the right puppy should be on the right kind of character. After all, the puppy and later the adult dog must be happy in his new life and his family, just as the new owners with their dog…I believe that the main focus when choosing the right puppy should be on the right character.
For this reason, before the parents are mated, all prospective puppy owners are invited to our home to get to know each other and, of course, our dogs.
Filling out the form for prospective puppy owners already gives me a a lot of information about the future owner. During the personal meeting I answer all arising questions about the parent animals, or also generally about my experiences with the breed of the Portuguese Water Dog.
Is the family s first-time dog owner or already dog-experienced, is there already a dog in the household, or in the family. What interests do you have in dog sports, or how do you prefer to spend your holidays.
Each puppy has its own character, so it is important to get to know the future dog owner so that he/she gets the dog that fits best into his/her family. For this reason, the puppies are not assigned according to color or gender, but according to their character traits.
Of course, we don't want to give you the impression that you are getting a dog from us that you don't want to have.
Nevertheless, I make sure that all puppy parents are allowed to take their personal heart dog home with them at the 8th week.
If in the end no possibility of agreement can be found, I will pay back the deposit and you are free to continue your search for the right puppy for your family. Because neither the dog nor the new owners should be unhappy with the choice…
How did I get into breeding?
Since I have developed an intense passion for Portuguese Water Dogs (also known as Porti or PWD), I decided in 2016 to look for a breeding female, or a puppy to match my male.
Because of the small gene pool of this breed, it was not so easy to find a bloodline that fits to Chaska and also to find a breeding that supports my project.
After many weeks in front of the PC, some visits to far away countries and several attempts to find a suitable female, I could take Pria da Casa da Buba home after almost 2 years.
Thus began the sometimes somewhat rocky road to breeding "vom Donauwind"!